May 24, 2016 1:43 am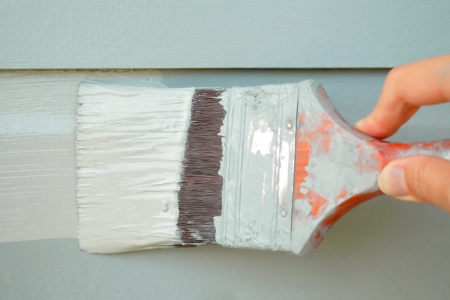 In life and in real estate, first impressions matter. Before placing your home on the market, it's worth taking a look at the paint on the outside, which may have been impacted by elements from the past winter.
"If you've been huddled inside for the past few months, you may not be aware of the price your exterior paint has paid keeping winter weather at bay," says Debbie Zimmer, paint and color expert with the paint Quality Institute. "Freeze-thaw cycles, rain, sleet and snow can cause paint to fail quickly, especially if you didn't use top-quality paint to begin with."
Zimmer suggests starting by inspecting for flaking or peeling paint on the exterior siding and trim. If the compromised paint is confined to a small area, a touch-up may be all that's needed.
Begin any touch-up project by scraping off loose paint, then sanding the edges smooth, Zimmer explains. Next, prime any areas where bare wood is visible, and then apply a coat of leftover paint.
If the paint damage is beyond touch-up repair, Zimmer advises re-painting the home sooner rather than later.
"Assuming that you're a do-it-yourself painter, you'll find it much more comfortable to do your surface preparation and painting now, when the weather is mild," Zimmer says. "Your paint may even last longer if you act quickly. Exterior paints tend to 'cure' better in moderate temperatures, which enables them to form an especially durable paint film."
It's doubly important to act fast if you plan to hire a painter, Zimmer adds. Professionals tend to book up this time of year.
No matter which route you choose, don't skimp on the product—it will make all the difference.
"A top-quality 100-percent acrylic latex paint will provide the best-looking and longest-lasting results, no matter where it is used," Zimmer says.
Source: Paint Quality Institute
Published with permission from RISMedia.